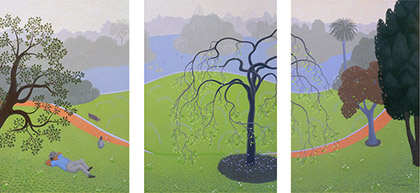 Peace
1999
Oil on Canvas (triptych)
91.5 x 183cm
Collection: National Trust of Australia

Limited edition Giclee archival prints of this painting are available for purchase. Paper size: 42.0 x 60.0 cm
(Extract from: Felicity St John Moore and Anne Marie Graham,
A Garden for all Seasons
, Blue Star Print, Melbourne, 2007) Anne Marie Graham's magnificent series A Garden for All Seasons strikes a majestic chord. a celebration of the cycle of line in its various natural and cultivated aspects, her sixty view Royal Botanic Gardens suite resonates with the cyclical themes of the Middle Ages - of months, seasonal labours, social activities, pleasures and pastimes portrayed in tapestries, illuminated manuscripts and with her memories of the paintings of Pieter Bruegel. Her large-scale creation embraces two kinds of art as a means of spiritual regeneration, designed to inspire, elevate and restore the viewer. As such, it reflects the noble and far-reaching intention for the gardens of the original botanists, Baron Ferdinand von Mueller and William Guilfoyle. The second is a correspondingly down-to-earth aesthetic that reflects the popular and park=like aspects of the public gardens, often by means of typical figures, stylised and quirky, playfully portrayed. While these figures are clearly intended to inform and entertain, their narrative significance is restrained, deliberately distanced by their hard-edge contours. Both streams of Anne Graham's art flow from the same source. That fertile source was the artist's early life and upbringing in the city of Vienna, one of the world's great centres of music and art, whence she came as a refugee to this country in 1938.
Peace (Botanic Gardens)
1999 In this three part composition that concludes the series, both the title and the format hint at the artist's more allegorical mood and intention.
Peace (Botanic Gardens)
is a triptych in the traditional manner whose format contains elements of time passing, as of reflection, contemplation, endurance and fading out. In upper regions, the blue and grey haze of the ornamental lake, islands and clumps of flaring bulrushes serves as a backdrop for the continuous curving vista. Like the curvature of the earth, the vibrant greens of the rolling hill and lip-shaped contours of Dog Flat lawn merge in the foreground. These two domains of lake and lawns are linked in the central panel by the tortured branches of a 'tree of life', its tendrils promising new growth and the bole around it's trunk bursting with crocuses. Seen from on high, as from a god's eye view, the orange path appears to smile in the wings. The foliage of the framing tree brings to mind the changing of the seasons; and the scattered daisies act as a staccato counterpoint to the lawn sprinklers in the middle ground, their measured rhythms the only sounds in the artist's vision of peace.
Curator, Gippsland Art Gallery, Victoria